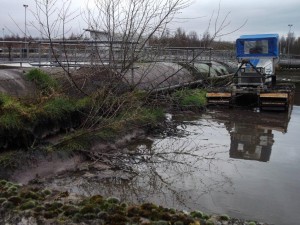 What happens when the natural growth of weeds and vegetation is excessive and begins to hamper the  machinery at your water treatment plants?
Blades and fans in aeration tanks, sluices and pumps can all be hampered or damaged by excessive weed growth, and cause the whole treatment process to grind to a halt.
The longer the vegetation problem is left unchecked, the worse the  outcome in terms of time and expense to put things right.
Aquatic Solution's wide range of services mean that we offer efficient, effective and economical ways to deal with any aquatic weed, vegetation or invasive weed problem.
 This is how we can help solve problems with weeds and vegetation growth at your water treatment plants:
Lightweight Truxor amphibious vehicle enables access to difficult areas
Mechanical removal of the weeds is faster than manual handling, which saves time and money and reduces any "down time"
Years of experience in invasive and aquatic weed control
Experience and knowledge of Health and Safety implications of working in

water treatment plants
We offer a quick and effective solution to your problem, and at a very competitive rate.
If you would like to learn more about how we might be able to help your water treatment plants, please contact us and we can have an informal chat to discuss the areas that interest you. 
We utilise Google Earth or you can attach pictures (below) of the area to help discuss any project with us in more clarity and detail.
All of our quotations  are provided free of charge and in the case of larger jobs we would undertake a site survey.
Call us now on 01788 810614 or email us at info@aquatic-solutions.co.uk, or complete the online form below. We look forward to hearing from you soon.
Aquatic Solutions UK – Experts in Water Treatment Plants 
Tel:                    01788 810614
Mike Mobile:  07770 606423
Fax:                  01788 519766
Email:    info@aquatic-solutions.co.uk
Invoice Address: The Cart Barn, Montilo Lane, Pailton, Rugby, CV23 0QN
Office Address: Lawford Heath Farm, Lawford Heath Lane, Lawford Heath, Rugby, CV23 9EU