Lake restoration is always a significant project to undertake. The end result needs to have a balance that adds benefit to the watercourse and the surrounding environment, as well as being aesthetically pleasing. One way of achieving this is to install marginal plants within newly created banks.
Marginal plants

thrive in wetlands, shallow water or silt receptors and include varieties such as Canary Reed Grass, Common Reed, Bulrush, Purple Loosestrife, Water Mint, Yellow Flag Iris, Pond Sedge, Hop Sedge, Soft Rush, Flowering Rush, Marsh Marigold and Water Forget-me-not.
The introduction of these plants brings the following benefits:
Help to stabilise the bank – the plants roots bind with the soil to help prevent erosion and bank slippage, which in due course would lead to increased silt levels.
Shade, shelter and habitat – some varieties of plant raft out over the surface of the water providing important areas of shade for fish. The larger plants also provide refuge for other wildlife, while some amphibians and fish deposit their eggs on plants.  Marginal reeds provide good cover and habitat for juvenile fish.
Improve water quality– these plants act as natural filters, absorbing ammonium, nitrates and phosphates and other undesirable substances.  They also compete with algae for nutrients and help keep algal blooms at bay.
Food Source – plant material provides a food source for fish, invertebrates and other wildlife.
Creating New Banks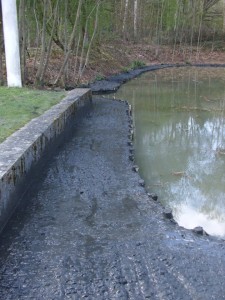 As part of a pond or lake restoration project a "fence" can be created in the water, along river banks, or around the perimeter of the water body using a porous membrane called Nicospan. Silt removed from the lake bottom is deposited behind this fence to create new banks.
The silt is nutrient rich and makes an ideal planting medium in which marginal aquatic plants will thrive. Bird netting maybe required to protect the newly planted marginal vegetation depending on locations, time of the year and density of wildfowl, in particular Canadian Geese.
In terms of benefit to the environment, recycling the silt on site means it does not have to be transferred elsewhere as waste, saving cost and the negative impact of transportation. The flourishing marginal plants will not only look great, they will attract a range of wildlife and enhance the quality of the water, enhancing biodiversity – a truly successful lake restoration.
How Aquatic Solutions can help:
We offer professional lake restoration and lake management services, providing:
Fully trained, qualified  and experienced staff
Lightweight Truxor amphibious machine with excavator and silt pumping attachments enabling easy access even in confined areas
Cost effective silt pumping and recycling solutions
Cost savings by recycling silt on site (no cost of waste removal)
Expert aquatic planting and landscaping knowledge
Care and attention to detail
Find out more about our lake restoration and  management services, and view a recent case study that utilized these services to great effect.
If you would like to discuss a lake restoration project, or any aquatic management issue you have, or receive a FREE quotation for a specific project, feel free to contact us via the form below, email us at …..  or call us on 01788 810614.
[contact-form-7 404 "Not Found"]