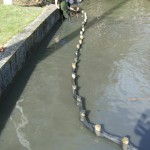 During the autumn and winter is the time when many of us need to remove the silt from our lakes, ponds and waterways, when vegetation has died back and access is as easier.  Nutrients in the silt will cause the weeds to grow and starve the water of oxygen, impacting on wildlife.  Silt can even reduce the depth of the waterway  such an extent that  it negatively impacts on users – swimmers, boat users etc.
Silt removal can be effectively undertaken by silt dredging, or silt pumping, but the bigger challenge is what do you do with the silt once it has been removed from the lake or canal bed?
Like many potential waste products, removing it from site can be the most costly and not the most environmentally friendly solution.
On site recycling can provide the ultimate solution, providing you with an ideal material for landscaping and planting.
Why is silt useful?
Silt consists of decaying flora and fauna, as well as soil erosion and run off from the surrounding terrain.  It is rich in nutrients, so it makes an excellent planting medium.  Once removed from the lake the silt can be put to great use for landscaping, whether enhancing the shape and appearance of the lake or waterway, or for the surrounding grounds.
To recycle the silt along the edge of the lake or waterway, a synthetic  "fence" can be erected in the water –  around the perimeter of a lake or along the bank of a canal  or stream, using a lightweight, porous and flexible membrane called Nicospan. It has  heat sealed pockets at intervals through which posts of 75-100mm diameter can be inserted, then driven into the lake bed, thus creating a fence which can be shaped as desired. Silt can be pumped from the bed of the lake behind this fence, which allows the water to pour through but retains the fine particles of silt. Once dried, the silt creates a new bank ready for planting.
Nicospan fencing can be installed efficiently and economically, even in areas where access to the bank is limited, providing an ideal low cost solution for bank protection, landscaping enhancement and most importantly, silt recycling.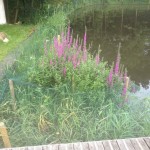 Aquatic Solutions can provide the perfect outcome
We offer an effective and efficient silt pumping service. Using our lightweight Truxor DM5000 amphibious vehicle we can work on the water, achieving access where larger, heavier plant cannot. We provide creative solutions for recycling the silt on site to save the significant costs of disposing of it as waste.
Aquatic Solutions offer: 
Fully trained, qualified  and experienced staff
Lightweight amphibious vehicle with excavator and silt pumping attachments means easy access even in confined areas
Cost effective silt pumping and recycling solutions
Care and attention to detail
How we can help:
Find out more about our silt pumping services, and view case studies demonstrating how we recycle silt.  Alternatively, if you have specific queries, feel free to email us.
If you would like to discuss any aquatic problem you have, feel free to contact us via the form below, or call us on 01788 810614.
[contact-form-7 404 "Not Found"]