Truxor Amphibious Machine
Aquatic Solutions UK are the UK's leading specialist in water course refurbishment and maintenance. Our Truxor amphibious machines are small and lightweight compared to traditional plant and at just 1400kg and able to turn on its own axis the Truxor is highly manoeuvrable and the most ecologically friendly way of tackling works to all variations of water course.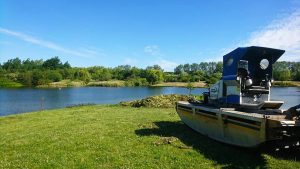 Aquatic Solutions UK operate a fleet of the most up to date Truxor amphibious machines specially designed and built to carry out all aspects of maintenance of water courses. The Truxor machine comes with multiple attachments that can cover aquatic weed cutting, collecting and disposal, silt pumping and dredging and specialised lily removal.
Driven with care and with its minimal ground pressure, damage to banks and sensitive areas can be minimised making the Truxor ideal for working on golf courses, nature reserves and public parks where larger, heavier machines have difficulty operating.
Take a look at the truxor in action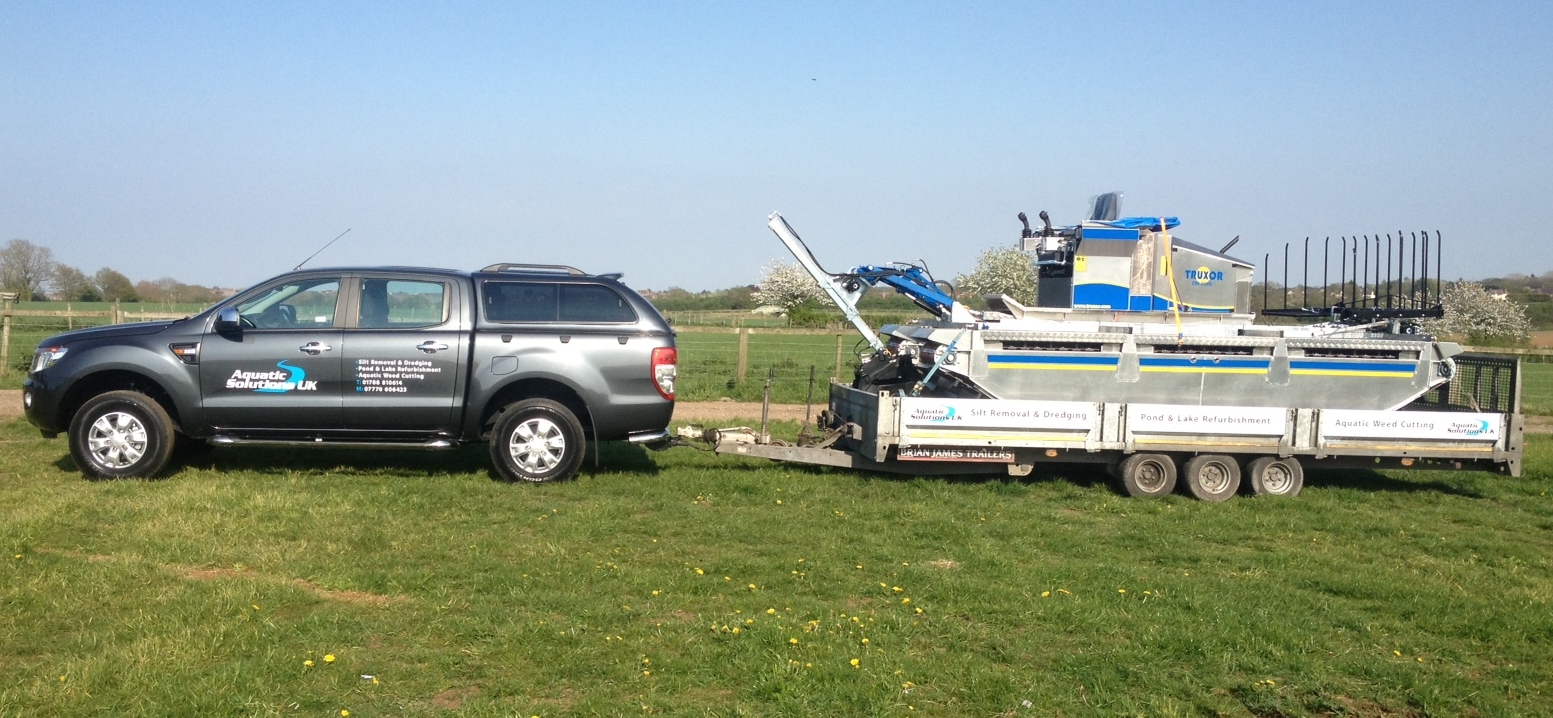 The Truxor is towed by a 4 x 4 on a flatbed trailer which means it can gain access through a much smaller area than conventional  machinery. Once unloaded, the Truxor can be driven over land to gain access to the water body, or if necessary can be lifted in by crane.
It is a highly manoeuvrable vehicle that can turn on its own axis in water and is capable of working in the tightest and most challenging of aquatic environments, such as marinas,  and the wide range of attachments make it ideal for a variety of tasks: the Truxor can go from a reed cutter to a collector in the blink of an eye.
Main functions of the Truxor amphibious machine:
Aquatic Weed Cutter
Collection and gathering of aquatic weeds
Reed Cutting and Reedbed Management
Bulrush and Water Lily Removal
Silt pumping and Dredging
Excavation
Truxor DM 5000 Attachments;
Aquatic Weed Cutter Basket
Large Cutter Bar
Heavy Duty Cutter
Collection Rake
Clamshell Bucket
Dredge Pumps
Excavator
Here Is How Aquatic Solutions Can Help You
Advice and quotations delivered in 48 hours
Work can be completed in as little as one day
Use of non invasive vehicles minimising impact of surrounding areas
Dramatic transformation of overgrown areas
Prevention of areas terestrialising