Parish Ponds restoration: Phase I removal of water soldier vegetation
West end of Pond: choked by Water Soldier
July 26 2021: Truxors arrive and work removing an estimated 500.000 plants from the main pond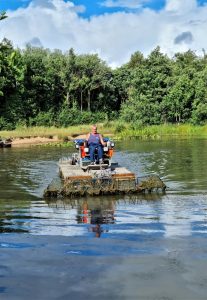 Litter being removed from the Lily Pond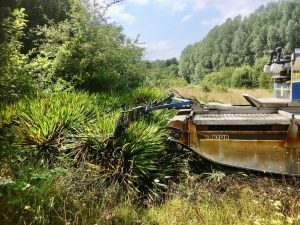 Vegetation dumped well away from the water to decompose naturally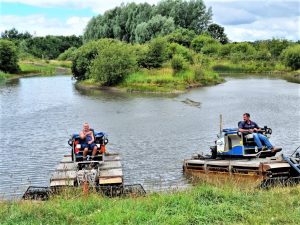 July 29 2021: Job Completed in 4 days and the pond is now looking like a pond again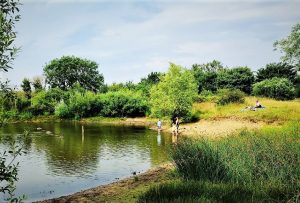 From the customer: August 5 2021: Here are a few photographs to illustrate how the removal of water soldier vegetation from the Parish Ponds was completed, with some examples of before, during and after.  The results have been spectacular.
The other large corner pond, the one with the water lilies, was cleared of surface weed and litter.
The Ponds now look like Ponds again and re-oxygenated water will soon be fed back into the Ouseburn when water levels rise in the main pond, thus having a cumulative impact downstream, along the full length of the river.
The Parish Council is sure that this project will pay huge dividends, not just in the short term with this restoration exercise, but in the longer term as a significant step forward in creating a local beauty spot and nature area for us all to cherish.
The removed water soldier is piled up in areas away from the ponds to decompose naturally, but during this time it will provide a shelter habitat for wildlife.