People are drawn to water, and really well kept, sport and leisure lakes attract large numbers of visitors. providing them with an ideal venue for their hobby, whether it's sailing enthusiasts, canoeists, water ski fans, windsurfers or fishermen.
Excessive growth of plants, reeds, rushes and aquatic weeds will have a negative impact; fishing lines tangle in weeds, propellers get caught up in them and excessive algae could lead to an unpleasant smelling body of water with dwindling numbers of fish and other aquatic animals.
Whether privately owned or public, you will want any problem on your sport and leisure lakes dealt with effectively, swiftly and economically.
That's where Aquatic Solutions can help with their wide range of  expert services:
Reed cutting and removal
Bulrush removal
Aquatic weed removal
Environmentally friendly solutions to algae problems
Silt pumping and dredging
Lake and pond refurbishment
Our experience and professional services are available at very competitive rates.
If you would like to learn more about how we might be able to help your

sport and leisure lake

, please contact us and we can have an informal chat to discuss the areas that interest you. 
We will have a conversation that is completely free of charge so we can learn more about your needs and challenges and utilise Google Earth to be able to discuss any project with more clarity and detail.
All of our quotations  are provided free of charge and in the case of larger jobs we would undertake a site survey.
Call us now on 01788 810614 or email us at info@aquatic-solutions.co.uk, or complete the online form below. We look forward to hearing from you soon.
Aquatic Solutions UK
Tel:                    01788 810614
Mike Mobile:  07770 606423
Fax:                  01788 519766
Email:    info@aquatic-solutions.co.uk
Invoice Address: The Cart Barn, Montilo Lane, Pailton, Rugby, CV23 0QN
Office Address: Lawford Heath Farm, Lawford Heath Lane, Lawford Heath, Rugby, CV23 9EU
Case Study – Babb Mills Lake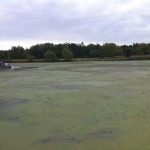 The Challenge Babbs Mills Park was created to commemorate the Silver Jubilee of Queen Elizabeth II in 1977. The Park has a variety of landscapes including a wildlife haven on the banks of the intriguing lake, the River Cole that twists through the area, grasslands harbouring wildflowers and trees and woodland creating homes for bats and owls. In recognition of the Parks diverse habitat, it was designated a Local Area Nature Reserve in 2002.
Maintained by Solihull Council, the lake is open to the public for fishing. However,  a heavy infestation of Canadian Pond Weed along with an over abundance of algae led to diminished oxygen levels in the lake resulting in the death of the fish population.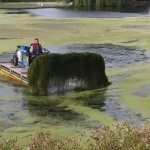 The Solution
Using the Truxor amphibious vehicle, the Aquatic Solutions team were able to cut the weed and the filamentous algae which were removed for composting. In just a matter of days, the area was cleared leaving a clean lake, where oxygen levels were naturally restored to normal.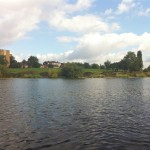 The Result
Solihull council were able to re-stock the lake, which now provides a healthy environment for the fish population to grow, attracting back other wildlife and restoring the lake to its former state.