Committing to renovating a canal or lake is a large undertaking. As it's likely that the dredging and removal of silt will be the largest factor in terms of time, ensuring this is dealt with efficiently and effectively is essential in order to keep costs in hand.
Retaining the silt and re-using it on site for landscaping is hugely beneficial as, once dried, the silt is effectively a nutrient rich compost/planting medium. This saves the significant cost, time and environmental impact of removing the silt as waste.
An effective way to achieve this is with dewatering bags, also known as silt bags. These are made from a durable geotextile fabric and can be sited on reasonably level ground close to the water. These dewatering bags come in various sizes and are filled with the pumped silt. The fabric retains the silt (to 64 microns) but allows water to flow out, back into the lake or canal.
The bags can are left while the silt dries out, when they can then be cut open and the silt recycled on site or they can simply be seeded in situ with an appropriate grass/wildflower seed mixture.
How Aquatic Solutions can help: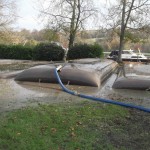 With many years' experience, our qualified and experienced team can transform a body of water and provide you with effective solutions for recycling silt.
We manufacture our own de-watering bags in-house, so they can be made to a size to suit the site on which they are to be used. The bags are tough and durable, allowing the wet silt material to be pumped directly into the bags at pressure.
Our most recent undertaking was on the Cromford Canal in Derbyshire, which has both rich and diverse wildlife in the attractive Derwent Valley. Part of the valley has been designated a Site of Special Scientific Interest and Local Nature Reserve.  Here we used our Truxor DM 5000 amphibious machines to pump the silt from a 2.4km length of canal. This silt was deposited into over 80 dewatering bags, and left to dry.
The Truxors are lightweight, and highly manoeuvrable meaning we can gain access where larger machinery cannot.  They leave little more than the impression of a human footprint on the land, which means they are ideal to use in sensitive areas, and there is little need, if any for restorative work to the grounds upon project completion.
Dewatering bags are just one creative solution we have for silt. For further information please see our website, or contact us to discuss a specific project.
We provide FREE quotations – simply email info@aquatic-solutions.co.uk, telephone 01788 810614, or complete the form below.
[contact-form-7 404 "Not Found"]